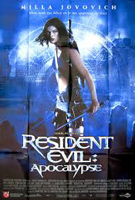 Release 2004
Genre Action, Horror, Sci-Fi, Thriller
Like/Dislike
Director: Alexander Witt
Writers: Paul W.S. Anderson
Stars: Milla Jovovich, Sienna Guillory, Oded Fehr, Thomas Kretschmann, Sophie Vavasseur
IMDB: http://www.imdb.com/title/tt0318627/

Alice awakes in Raccoon City, only to find it has become infested with zombies and monsters. With the help of Jill Valentine and Carlos Olivera, Alice must find a way out of the city before it is destroyed by a nuclear missile.
Comments for video: Survival Code