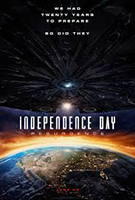 Release 2016
Genre Action, Adventure, Sci-Fi
Like/Dislike
Director: Roland Emmerich
Writers: Nicolas Wright, James A. Woods, Dean Devlin, Roland Emmerich, James Vanderbilt
Stars: Liam Hemsworth, Jeff Goldblum, Jessie T. Usher, Bill Pullman, Maika Monroe
IMDB: http://www.imdb.com/title/tt1628841/

Two decades after the first Independence Day invasion, Earth is faced with a new extra-Solar threat. But will mankind's new space defenses be enough?
Comments for video: Survival Code
Featured videos