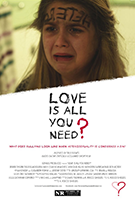 Release 2016
Like/Dislike
Director: Kim Rocco Shields
Writers: Kim Rocco Shields, David Tillman
Stars: Briana Evigan, Tyler Blackburn, Kyla Kenedy, Jacob Rodier, Ana Ortiz
IMDB: http://www.imdb.com/title/tt2259122/

Prejudice. Human rights. Bullying. "Romeo and Juliet" meets "Crash" meets "Requiem for a Dream"...with a twist. Based on the multi-award winning short film of the same name.
Comments for video: Survival Code