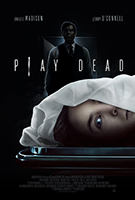 Release 2022
Like/Dislike
Director: Patrick Lussier
Writers: Simon Boyes, Adam Mason
Stars: Bailee Madison, Jerry O'Connell, Anthony Turpel, Sterling Beaumon, Chris Butler
IMDB: https://www.imdb.com/title/tt20198774/

Criminology student Chloe fakes her own death to break into a morgue, in order to retrieve a piece of evidence that ties her younger brother to a crime gone
wrong. Once inside, she quickly learns that the fearsome Coroner uses the morgue as a front for a sick and twisted business. As a frightening game of cat and
mouse ensues, Isabel will discover that the scariest thing about the morgue is not the dead, but the living.
Comments for video: Survival Code