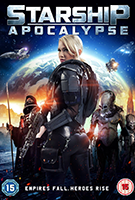 Release 2014
Like/Dislike
Director: Neil Johnson
Stars: Darren Jacobs, Emii, Brooke Lewis, E.J. De la Pena, Ralph Guzzo
IMDB: http://www.imdb.com/title/tt2605528/

The Overseer, Ruler of the Federation, wants to enslave the rebellious worlds with an ancient alien nano-virus that turns humans into slaves. John Worthy and his new Starship, Deliverance stands between the Earth and the coming storm.
Comments for video: Survival Code
Featured videos