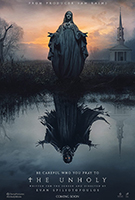 Release 2021
Genre Horror
Like/Dislike
Director: Evan Spiliotopoulos
Writers: Evan Spiliotopoulos, James Herbert
Stars: Jeffrey Dean Morgan, Cricket Brown, William Sadler
IMDB: https://www.imdb.com/title/tt9419056/

A hearing-impaired girl is visited by the Virgin Mary and can suddenly hear, speak, and heal the sick. As people flock to witness her miracles, terrifying events unfold. Are they the work of the Virgin Mary or something much more sinister?
Comments for video: Survival Code